Final Interview for Female Cabin Crews - Feb. 20 @ ISD Makati
Feb 19, 2018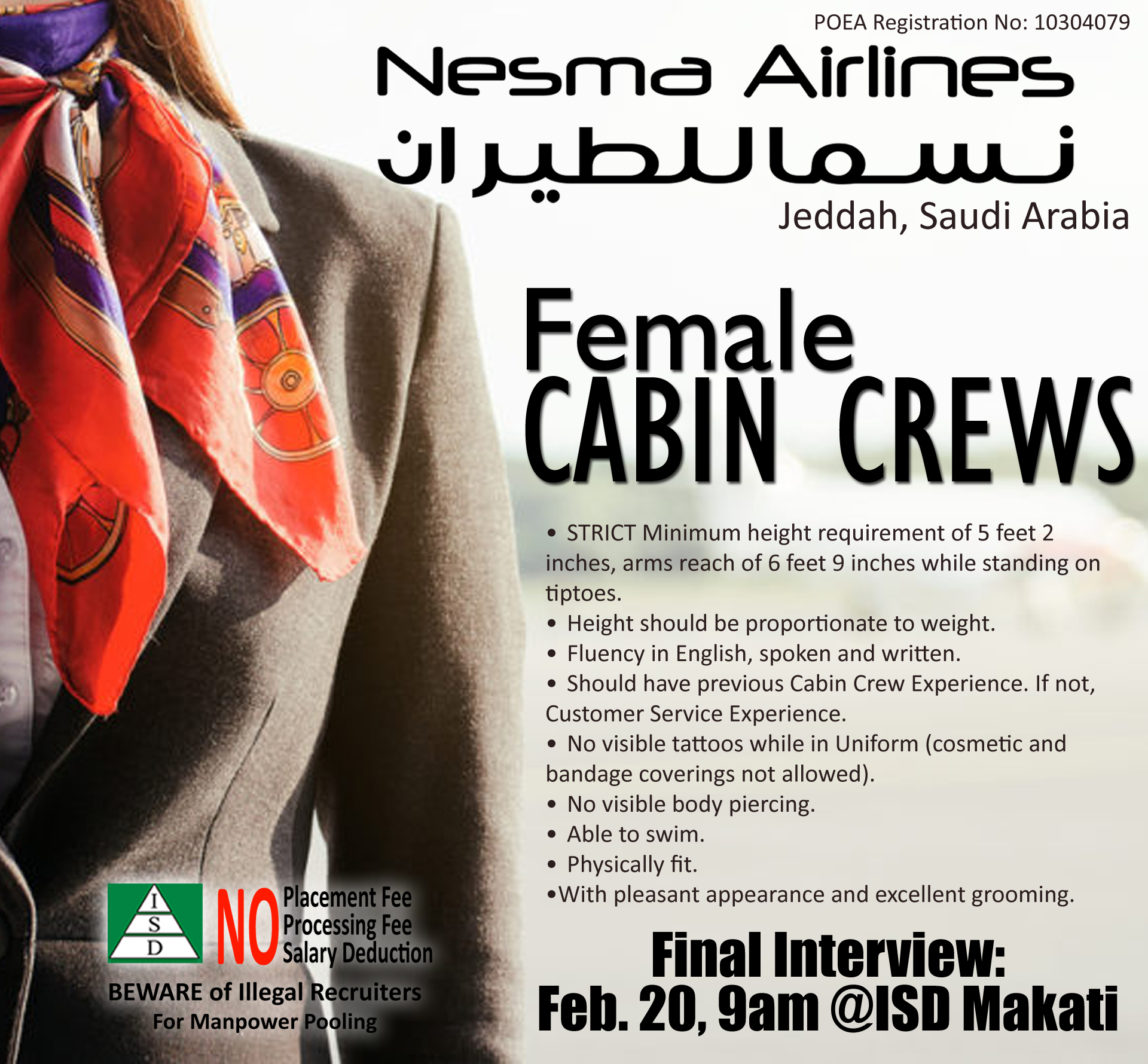 ACCEPTING WALK-IN CANDIDATES FOR TOMORROW'S FINAL INTERVIEW, TUESDAY FEBRUARY 20, 2018.

Company Name: NESMA AIRLINES
Location: Jeddah, KSA
POEA Registration No: 10304079
Website: http://nesmaairlines.com/

FEMALE CABIN CREW
- Final interview: Tuesday 2/20/18 9AM
- STRICT Minimum height requirement of 5 feet 2 inches, arms reach of 6 feet 9 inches while standing on tiptoes.
- Height should be proportionate to weight.
- Fluency in English, spoken and written.
- Should have previous Cabin Crew Experience. If not, Customer Service Experience.
- No visible tattoos while in Uniform (cosmetic and bandage coverings not allowed).
- No visible body piercing.
- Able to swim.
- Physically fit.
- With pleasant appearance and excellent grooming.
All Candidates are required to present one passport size photo, and one full-length photo, Business Attire. Hair tied back in both photos.

NO PROCESSING FEE, NO PLACEMENT FEE, NO SALARY DEDUCTION!!

NOTE: Applicants MUST REPORT to our office tomorrow Tuesday 2/20 for the Final interview. We open at 9:00AM. Please bring bring your resume and supporting documents (COE, trainings, seminars), bring original for verification.

MANILA BRANCH: ISD Building #5439 Curie Street, Palanan Makati city. we are located a few blocks away from Taft-Vito Cruz (Also near Cash and Carry Buendia).