---
International Skills Development, Inc. is ISO 9001:2008 Certified!
CERT. NO. TUV100 05 1496
Announcements
FINAL INTERVIEW FOR NESMA ELECTRIC - November 21, 22 and 23
Nov 20, 2017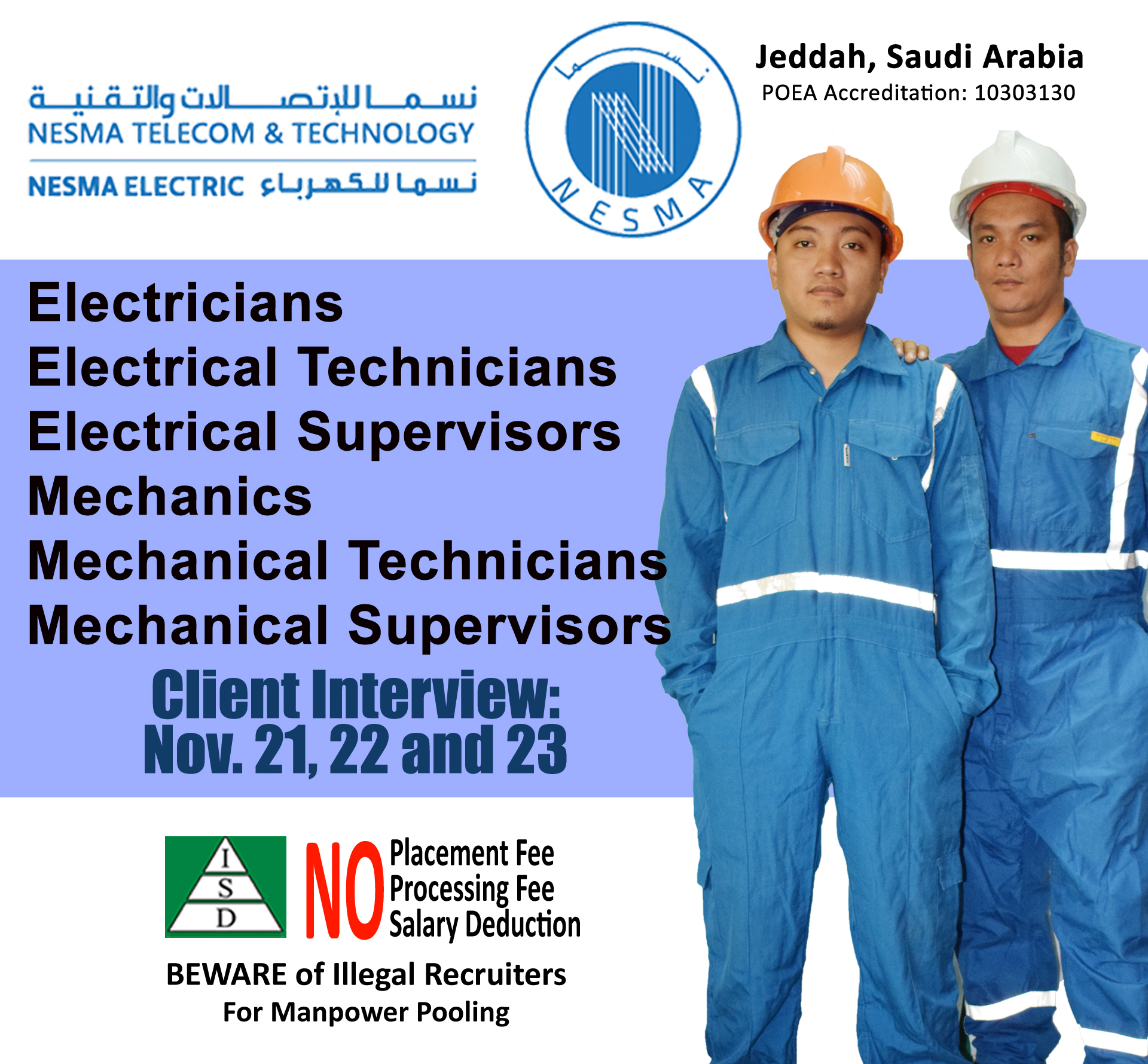 Final Interview: November 21, 22 and 23
Company Name: NESMA TELECOM & TECHNOLOGY CO. LTD
POEA Accreditation No. 10303130
Job Site: JEDDAH, Saudi Arabia
Website: http://www.nesmaelectric.com/

Requirements:
• Electrician
• Electrical Technician
• Electrical Supervisor
• Mechanic
• Mechanical Technician
• Mechanical Supervisor

Qualifications:
• All candidates must have a minimum of 5 years of working experience in Electrical field.
• Saudi Experience is preferred.

How to Apply?

Please report directly in any of our offices nearest to you with a set of Resume', Certifications of Employment, Related Training Certificates, Diploma & TOR, Passport Copy and NBI Certificate (if already available) for interview. Original Passport and all other original documents must be presented during the interview for verification purposes.

You may also send your updated resume to:
• loricel@isdphilippines.com
• fb@isdphilippines.com
• isd@isdphilippines.com

INTERNATIONAL SKILL DEVELOPMENT, INC. - MAKATI CITY
5439 Curie St., Palanan Makati City
Contact No. 02.833.1242 loc. 124 Look for Ms. Lorie
Contact Person: Ms. Lorie

INTERNATIONAL SKILL DEVELOPMENT, INC. - CEBU CITY
Rm. 201 LDM Bldg. Cuenco Cor. Legaspi St., Cebu City
Contact No. 032.253.9605
Contact Persons: Mae Maandig / Mary Ann Pascua

INTERNATIONAL SKILL DEVELOPMENT, INC. - DAVAO CITY
2F Bajada Plaza Bldg (in front of SSS Bldg.)
JP Laurel Avenue. Davao City
Contact No. 082.200.2593

Contact Person: Ms. Windy Rosal
You can also apply through our ISD Facebook App:https://apps.facebook.com/isd-job-app
We are a NO FEE charging company. We do not collect Placement and Processing Fees from our applicants.